---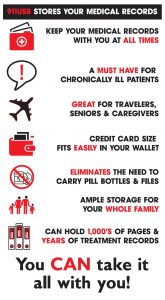 911USB is a small computer storage device that holds copies of your medical records inside it. In the event of an emergency, hospital staff can plug this into any computer and your medical information files can be viewed by the doctor treating you. It can provide a list of all of your medications and medical history so that doctors are instantly aware of your conditions, medications and allergies. Your medical insurance cards, family contact information and even medical directives can all be stored on the device. It has enough storage capacity that you can keep information on your whole family in one safe place!  As a cancer patient, I developed this product to provide peace of mind for myself and my family. I use it to keep up with my medications, chemo therapy treatments, and latest test results. I don't know about you, but I can't remember the names and strength of every one of my medications. In a medical emergency, that information may just save my life! My search to find a way to keep all of this information organized and available in an emergency lead me to create 911USB.
As I developed this product for myself, I realized that there are probably a lot of people just like me who need this product. People who live in small towns, remote areas, or travel a lot!   After experiences with elderly relatives, searching for insurance cards, and medicine bottles; I realized that 911USB can also provide peace of mind for seniors and their caregivers. Buy 2 and keep one stored in a safe place so that you have all of your loved ones medical info in one handy location without searching for it!
The best part is that YOU decide what's important! I provide helpful templates that are FREE to use to help you organize your information! None of the forms require you to provide information. You can delete any forms that you don't use and even password protect documents if you want. If you stop taking a medication or your medical history changes, you can easily add or delete information to keep things up to date.
WHAT STYLES ARE AVAILABLE?
The product currently comes in 3 styles. There is a 4gb credit card style, which I suggest that you keep in your wallet next to your driver's license.  We also offer a 2gb wristband style which is great for active lifestyles. Both styles display our trademarked 911USB logo which is easily recognized by emergency and paramedic personnel. A 2gb credit card style is now available for users that require less storage space.
                    
A portion of EVERY product sold goes to benefit individuals and families whose lives are forever changed by chronic illness!
My dream is to travel the U.S promoting my product and sharing my story at health expos and to be able to give checks to patients & families to help ease the financial burdens of chronic illness. (like publishers clearing house!) I am hoping to find a TV show (Dr.Oz, Ellen,Harry) that will include my travels as an ongoing segment on their show. If you are reading this and can help me make this connection…..Please give my info to show producers to contact me!
How Can I Purchase One?
The online store is now OPEN. Click on the "SHOP" tab at the top of this page and shop away!  The 4gb credit card USB is $40(+tx/s/h).  The 2gb wristband style is $40 (+tx/s/h).  We have just released a 2gb credit card USB at $30 (tx/s/h)